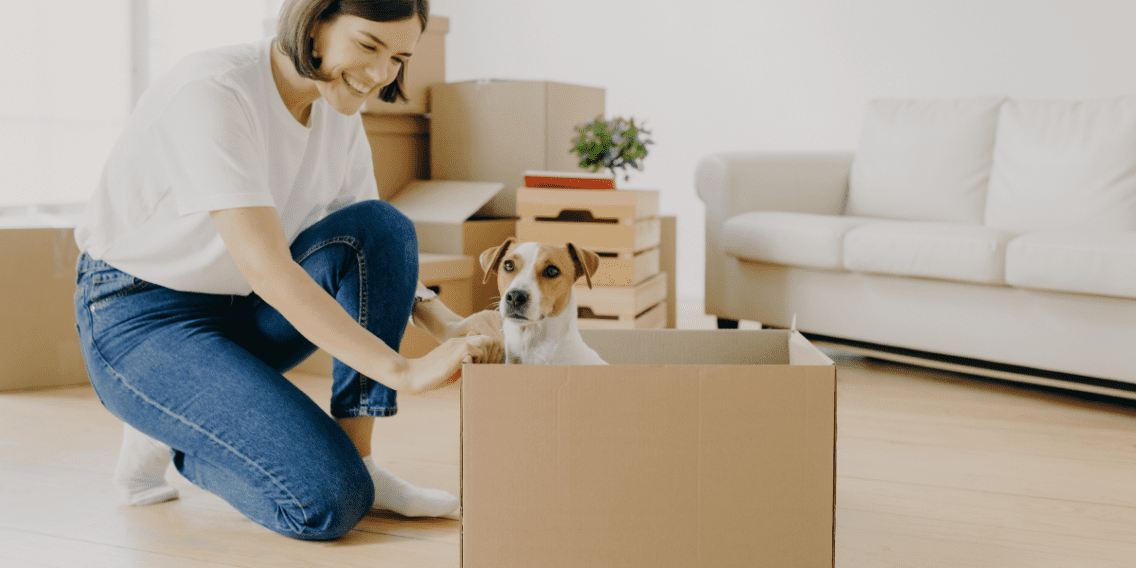 10 Tips for Moving With Pets
Moving is one of the most stressful events in a person's life and it's not that much different for pets. Whether you move across the country or to the other side of the world, your pets will have to go through a huge adjustment in a short amount of time.
Use these tips to make the moving process as smooth as possible for you and your furry companions:
1. Keep Your Pets Calm
Animals can sense the stress you're going through as you rush to pack. If you can't keep them in a quiet space away from all the chaos, slow down and remain calm to keep their anxiety at bay.
2. Introduce the Kennel or Crate
If your pets will be traveling in a kennel or a crate during a long-distance move, they need to get comfortable with it before moving day. Give your animals several days to acclimate to a kennel or crate so that they aren't scared when it's time to go.
3. Prepare A Medical Kit
A lot can go wrong during a move when pets are involved. A first aid kit, designed only for your four-legged family members, prepares you for unexpected emergencies. Some must-have supplies include absorbent gauze pads, adhesive tape, cotton balls or swabs, 3% hydrogen peroxide, ice packs and towels. Have on your veterinarian's phone number.
4. Update Their Tags
It doesn't matter if your new home is within driving distance or you have to board a plane. There's always a small possibility that your pets might escape or get lost on moving day. Make sure their collars have an identification tag with your name and cell phone number, so you can be quickly reunited if something goes wrong.
5. Groom Them
This might not apply to all animals, but bathing your pets and brushing their fur is a great thing to do before a move. If you have a dog, clip their nails. Long, unkempt nails are not only painful for the dog, but they can also damage your new floors.
6. Arrange for A Pet-Friendly Road Trip
Driving with furry friends requires some planning. Expect to take bathroom breaks and walks along the way. If your pets get motion sickness, feed them a couple of hours before the drive. Some essentials to have on hand: a car harness, portable toys, a no-spill water bowl and some light snacks.
7. Plan for A Safe Flight
International moves are especially tricky for pet owners. Get familiar with your airline's rules and regulations for flying pets. Small dogs and cats may be transported in a carrier under your seat during a most commercial flight. Larger pets go in the cargo area of a plane. Avoid medicating your animal before the flight. At increased altitude pressures, sedated pets can experience deadly respiratory and cardiovascular complications.
8. Get Professional Help
Professional movers have years of pet relocation experience. Make sure your mover has good credentials and offers competitive prices that align with your needs and budget.
9. Research and Find A New Veterinarian
Your first days in a new home will be much easier if you know your pet can have access to medical care. You can either request a recommendation from your current veterinarian or ask around in your new community for suggestions.
10. Help Them Adjust to A New Environment
Just because you've arrived at your destination doesn't mean your pets are ready to settle in. Give them a tour of the house and take them for long, slow walks around the neighborhood so they can feel comfortable in the new environment.
Contact Piepho Moving & Storage Today for Free Moving Quote
At Piepho Moving & Storage, we think of your pets as precious cargo. As an Allied Van Lines agent, we're residential international movers that are part of a global moving network. This means that we are familiar with all the rules and regulations of pet relocation.
If you're ready to move to or from Minnesota in Minneapolis – St. Paul, Mankato, Rochester or LaCrosse, Wisconsin, our movers are ready to help with moving services for both you and your pets.  Moving to Europe, Asia, or South America? Our movers have helped relocate families of humans and furry creatures safely and hassle-free. We'd be honored to do the same for you. Contact us today at 800-622-4515 or visit our website for a free moving quote.