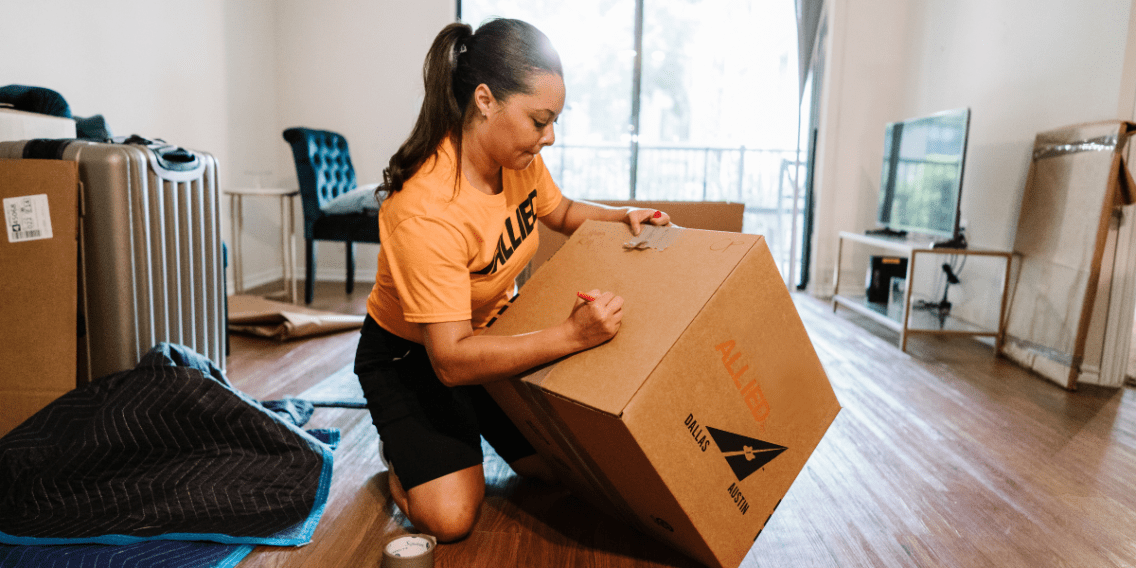 Best Packing Tips for Moving
Packing efficiently and economically can save you time and money, and take the stress out of your move. Read on for some top packing tips to get your move off to the very best start.
Declutter First
The first step to packing up your personal belongings for a move should be to get rid of everything you don't want to take with you. This is a time-consuming but essential step to ensure you're not moving items that you will no longer want or need in your new home. Start this process with plenty of time in advance of moving day.
Sell anything of value using eBay
Sell or give away items on Craigslist
Schedule a charitable donation pick-up
Get Free Boxes
No matter how big or small your home, there's no doubt you'll need plenty of boxes for your move. Find the boxes you need, for free!
Get free boxes from Costco, liquor stores or grocery stores
Find and use the original boxes for your electronics
Pack items inside your storage bins and suitcases
Organize Boxes by Room
Organize your boxes by room, keeping kitchen items together, bedroom items together, etc. Carefully label your boxes so you know which room they belong in and add a brief description of their contents for easy unpacking.
Start Early
Get an early start on packing, it's bound to take longer than you anticipate. Items like home décor, out of season clothing and other rarely used items can be packed in plenty of time in advance of your move, leaving you less to worry about in the run up to moving day.
Protect Your Possessions
It's not only boxes that you'll need to safely move your items. Make sure you stock up on bubble wrap and packing paper to protect anything that could get damaged or broken, and make use of blankets and other soft items that you already have.
Pack Dishes Vertically
After wrapping your dishes in packing paper, insert them into the box vertically and secure them in place with bubble wrap.
Pack an Overnight Bag
Set aside a box of things you'll need in your new home immediately so they're quick and easy to find – include toilet paper, hand soap, snacks, bedding and whatever else will make you feel at home. Also pack an overnight bag for your first night in your new home – include your pajamas, clothes for the next day, toothbrush and any other personal items.
Take Photos of Your Electronics
Before you dismantle that TV set, games console or any electronic item, take pictures of which wires go where so you can easily set it up again in your new home.
Load Heavy Furniture First
When packing up your moving van, load the heaviest items first, and think about which shapes best fit together – try turning furniture upside down or on its side to best fit everything in.
Use Smaller Boxes for Heavier Items
Sometimes we automatically pack heavier items in larger boxes, but this is counterproductive when it comes to moving them! Pack heavier items in smaller boxes to make them easier to carry.
Avoid the Hassle Altogether
If you're reading through this list and thinking "wow, that's a lot", you may want to consider hiring professionals. The La Crosse, WI and Minnesota Twin Cities Movers at Piepho Moving & Storage provide an end-to-end moving solution. Not only do we have the capability to do the heavy lifting and move your belongings, but Piepho also provides packing services, where we pack and/or unpack your goods for you.
Visit our Minneapolis – St. Paul, Minnesota or Wisconsin Location
For additional details about moving to or from the Minneapolis, MN area, visit Piepho Moving & Storage today! We are your trusted La Crosse, WI and Minneapolis, MN movers .
Thanks for reading, and good luck with your move, from everyone at Piepho Moving & Storage.