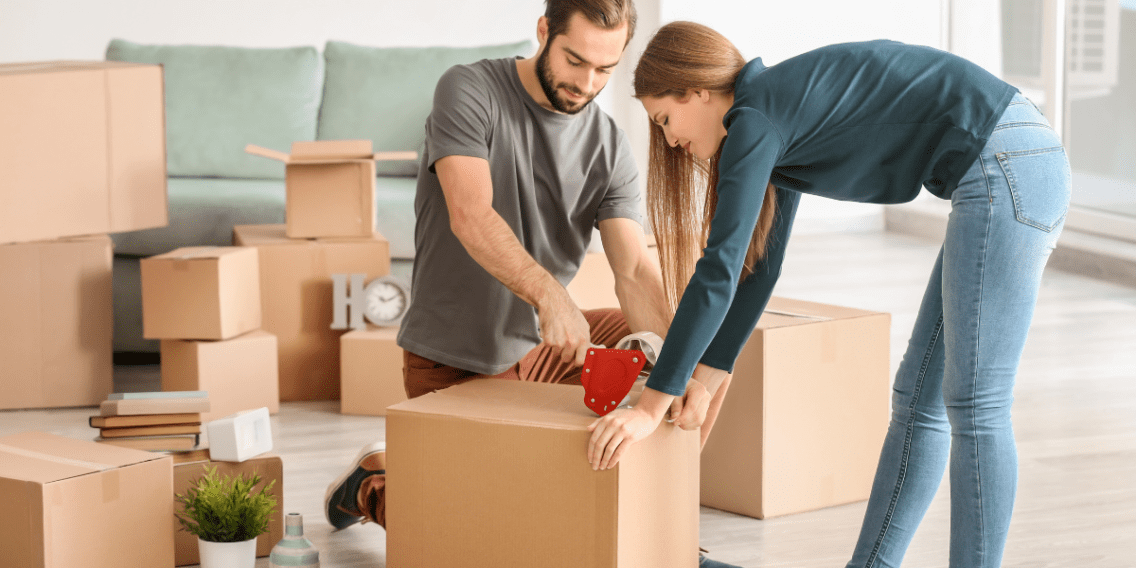 How To Pack Moving Boxes So Your Belongings Stay Safe And You Stay Sane
Five Tips To Help Make Packing For Your Residential Move Easier
We recently got a call at Piepho Moving and Storage from a customer preparing to pack up his La Crosse, WI residence. He looked at his years of accumulated belongings, and felt overwhelmed at the thought of packing the contents of his home into cardboard moving boxes. While we of course offered our professional packing services, he was determined to pack boxes for his move himself. Here are some helpful tips we gave him, and now will share with you! These tips should help make packing clothes, fragile items, and other belongings into your moving boxes less daunting.
Survey your belongings
Want to save time and money? Go through your belongings BEFORE you start packing. Decide ahead of time if you really want to keep that old UW-La Crosse sweatshirt, your old washing machine, or that bulky 90s TV. Once you've donated your old clothes, and other unused household items to Goodwill or Salvation Army [links TKTK], it is time to estimate how many moving boxes you'll need. Always overestimate!
Get the right moving boxes and packing supplies
There are a few key items that everyone needs when preparing for a move, including:
Professional quality moving boxes (check out our post on the boxes you'll need) [link to the post]
Packing tape and scissors
Newspaper/brown paper rolls or packing paper
Box cutter
Permanent markers

Key tips for planning your box packing marathon
Fact or Fiction: Packing will take longer than you think it will. Answer: Fact.
Think of packing up all of your household items in cardboard moving boxes as a marathon. A slow and steady pace can really help you get to the finish line.
Pack a few boxes every day and clean as you go. Your boxes should be all packed up the night before your move with only the essentials left out. Here are some tips to get done on time:
Use a calendar to plan when and how many days you'll spend packing each room.
Pack boxes room by room to stay organized and get more done.
Designate a work area in each room being packed so you know where all of your moving supplies are. Trust me, when you're ready to close a box, not knowing where you put your tape is the most frustrating thing!
Sort packed boxes not only by room, but by weight to make loading the truck easier.
As a general rule of thumb, packed cartons should weigh no more than 50 lbs. That is why movers use small moving boxes to pack heavy items like books. Each box should be filled to the top, and a smaller moving box keeps the weight safe for you and our crew.

Your moving boxes' new best friend: the permanent marker
Label every carton — no exceptions! Mark each box with the contents, room at destination and "FRAGILE" or "THIS END UP" or "TOP LOAD ONLY" when applicable. Write on the side of your boxes to make your life easier. This way, you'll be able to read its contents even when they're stacked!
DIY Packing Techniques
Lastly, these general tips for packing boxes for moving hold true for any room:
Place loosely crumpled packing paper in the bottom of boxes to provide extra padding.
Pack the biggest, heaviest item(s) first, then add smaller items and fill in spaces with loosely crumpled packing paper.
When packing fragile items, wrap in paper before placing in boxes.
If packing just doesn't sound like your cup of tea, then hire professional packers. This is a great way to make your move faster, easier and less stressful.
However, this doesn't mean you should ignore your home until moving day, especially if you have special instructions for valuables or organizing rooms. See tip No. 1.
Now, go forth, make a schedule, buy your moving boxes and supplies, and start packing up. You might be surprised at how much fun you have rediscovering your old memories of your time in La Crosse.
Discover our Minneapolis – St. Paul Locations
For additional details about moving to or from the Minneapolis, MN area, visit Piepho Moving & Storage today! We are your trusted Minneapolis, MN movers  if you'd like to purchase professional-grade moving boxes and supplies, or if you have questions about how to pack your house up like the pros. We're in La Crosse, WI, and in the Twin Cities, Mankato, and Rochester MN.