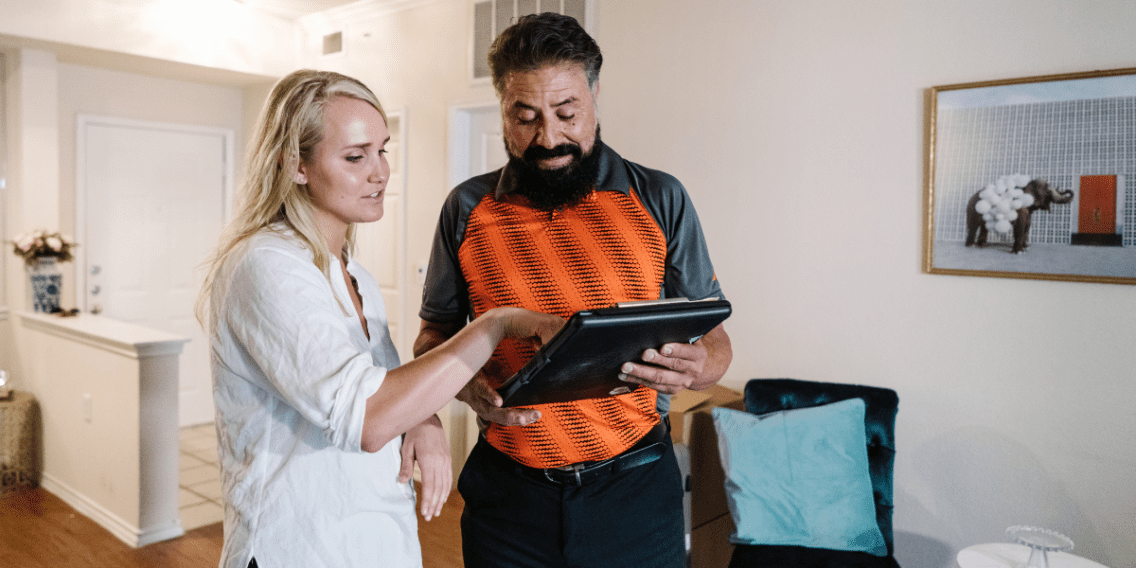 What are all those documents for? Moving papers and terminology explained
Moving Papers & Terminology
Find out what contracts you'll need to sign and what the terminology means before the stress of moving day kicks in.
Moving Terminology
Moving terminology can be confusing for those not in the industry. It can be especially frustrating when given multiple documents to sift through and sign when you are busy on moving day.
It's important to know what you are signing. Learning the terminology in advance will not only ease your frustration but will also ensure you're better prepared for your move.
One of the first moving documents you'll be given is an estimate. After coming to your home and surveying the items that you want to move, the moving consultant will provide you with a written estimate of how much your move will cost overall. This document will state that it is either a binding estimate, a non-binding estimate, or a not to exceed estimate.
Knowing what each means will help you to choose the one with which you are most comfortable.
Binding estimate:

The mover guarantees the cost of the move will be what is shown on the quote.

Non-binding estimate:

The moving service gives a quote, but charges will be based on their fee structure that may include charging by actual weight of items shipped and miles driven.

Binding not-to-exceed estimate:

The moving company guarantees that your total cost will not be higher than the quote given, and that it may be lower depending on variables such as the weight of your household belongings that are moved, the hours the movers actually take to load your items on the truck, or miles driven.
There are several terms that may come come up as you discuss your move with your moving consultant or estimator:
Appliance service:

A charge to prepare appliances such as washers and dryers for safe shipment.

Expedited service:

An agreement for your mover to ship items by a set date in exchange for a higher charge.

Additional or Accessorial charges:

These are charges relating to services in addition to moving your items such as packing and unpacking items, and extra labor for difficult items including large safes, exercice equipment, or furniture that needs to be taken apart and re-assembled.

Advanced charges:

Charges for services performed by an outside professional or third party requested by you.
Moving Contracts
Following are the contracts that you can expect to see from your moving company at each stage of the moving process
Upon Selecting Your Moving Company
Order For Service: This is a contract that confirms that the movers have the right to perform the services detailed in the estimate. Be sure this is the company you want to carry out your moving services before signing this document.
On Moving Day
Change Order: If you've decided upon services that differ from what was originally agreed to in the estimate or quote, this is the document that shows the changes and details how the changes will impact the total cost of your move.
Bill of Lading: This is a contract containing the terms and conditions as well as information specific to your move. The bill of lading will include your delivery dates, valuation coverage, and pricing and payment terms. Review the document carefully to make sure all the terms look right and match the estimate given to you. Discuss any questions you have with your movers before signing the bill of lading. It is required for all movers to have a signed bill of lading before shipping any of your items.
Inventory Sheet: Your movers will prepare a detailed list of items to be moved that also covers the condition of each item. If you don't agree with what the movers have listed, be sure to discuss it with them prior to signing.
On Move-in Day
Customer Check-off Sheet: Use this document to check off every item as it is unloaded from the truck. This is how you determine that all of your belongings made it from your old house to your new house. Be sure to make a note of any damaged or missing items on the check-off sheet, as well as on the inventory sheet, and/or the bill of lading before signing.
Piepho Moving & Storage, Allied Van Lines Agent
If you would like further details on the the documents that you will be presented with by your move estimator, as well as on your moving day, and on the day we deliver your belongings to your new home, don't hesitate to contact one of the helpful residential moving service consultants at Piepho Moving & Storage. We have consultants at each of our four locations: Minneapolis – St. Paul, Rochester, Mankato MN and La Crosse Wisconsin. You can reach us at 800-622-4515.
Best wishes for a safe and easy move!