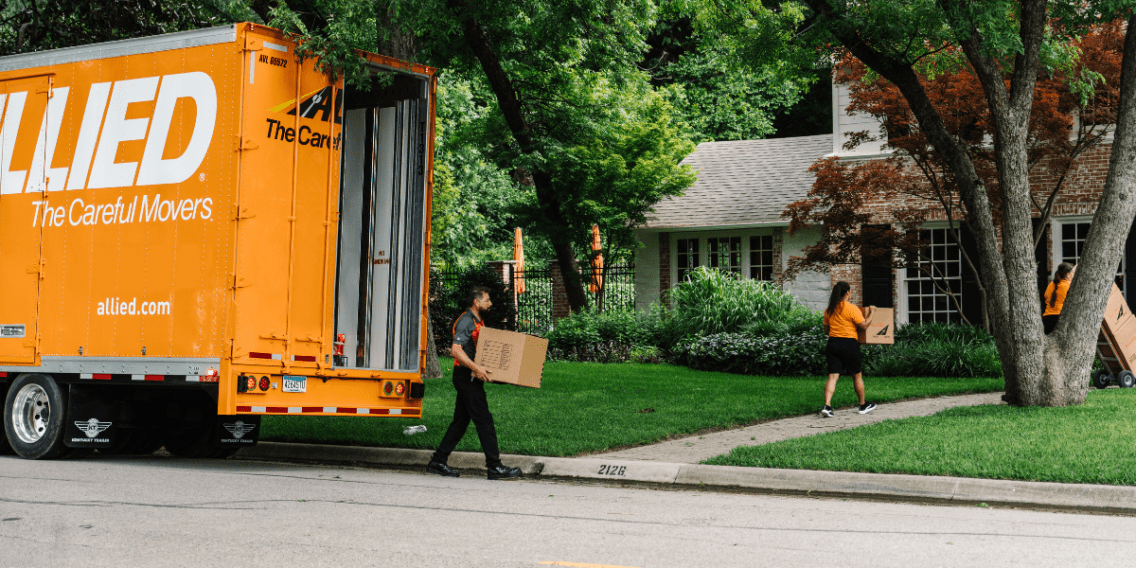 Frequently Asked Questions (FAQs)
Residential Moving Questions Answered
As Allied Van Lines agents, our move coordinators at our four Piepho Moving & Storage offices get asked a lot of great questions from our local and long-distance moving customers. We've compiled answers to the moving questions we receive most often. From what you need to know as you first start thinking about moving, to the time you unpack your last box at your new home, we've got the answers you need.
Moving FAQ: Before Your Move
When is the best time to move?
The busiest times for moving companies are from early spring to late summer or approximately from May 15 through September 15. At the end of each of these months, movers are even busier.
To find a mover with availability during the busy months, and maybe even to save some money, see if you can be flexible with your move-out and move-in dates. You might try providing the moving company with a five day window for both the loading and unloading days.
How do I select which moving companies will provide me with a moving estimate?
Ask your neighbors, friends, coworkers and family members if they can make recommendations to moving companies. You might even ask your realtor. Search online for reviews on popular services like Yelp or Google. You can even take a look at the company's Facebook page for reviews.
When should I begin contacting moving companies for estimates?
Try to provide the moving companies with as much notice as possible, especially if you are moving during the busy season noted above. Six weeks from the actual move date is not too early for estimators to come to your home to do a walk-through and give you a quote. Add even more time to make a decision if you are obligated by your employer to submit estimates for approval. Try to decide which mover you will use four weeks from your actual moving day. This time frame can be shortened in the off peak season which is normally September 15 through May 15.
What happens when an estimator or relocation consultant comes to my home?
The relocation consultant will walk through your home and look at the items that will be moved, and then provide you with an estimate of the cost of your move.
Don't be alarmed if the relocation consultant goes through all your cabinets and closets or even looks under beds. He or she must be able to see what is going to be moved, and if you select our packing service, how much needs to be packed in moving boxes. If you plan to declutter, and will have less to move than is currently in your home, be sure to tell your estimator about it!
A word of caution: be sure to follow through on your decluttering project! There may not be enough space on the truck if you have a lot more to pack than your estimator assumed. Of course, this will not occur on one or two small items, but if you anticipated eliminating a significant amount of belongings and do not do so, it is quite possible that this could violate the integrity of your binding estimate and/or cause the driver to run out of space on the moving truck.
 Call Piepho Moving & Storage, your Allied Van Lines agent, at 800-622-4515 to request an estimate.
Moving FAQ: Pricing and Paperwork
What is a binding estimate?
A binding estimate is a contract that specifies, in advance, the precise cost of the move based on the terms agreed upon at the time of the estimate. This is a quote that does not change as long as the terms remain the same. For example, the price can increase if additional services are requested or required at any stage of your move.
What is a non-binding estimate?
A non-binding estimate charges you according to the actual weight of your shipment and the actual cost of the services that are performed. You'll get an estimate from your relocation consultant after the walk-through, but the final cost is likely to be different from the estimate once actual charges are calculated.
How is the cost of my shipment calculated?
If you are moving to a new state, the charges are based on the weight of your shipment and mileage. These are referred to as the transportation charges. There are a variety of different charges that could appear on your estimate, so be sure to ask your move consultant to explain each item charge for you. Some of the additional charges that may appear include packing, crating, valuation or coverage, bulky article charge, and extra labor.
To verify the weight of your shipment, your driver will weigh his trailer prior to loading your shipment. Once your belongings are loaded, the driver will weigh his trailer again to determine the weight of your belongings.
How should I pay and what are the payment methods?
All charges need to be paid before your belongings are unloaded at your new home. Payments can normally be made using a major credit card, cash, certified check or money order. Check with your moving company before the start of your move to be sure your preferred method of payment is accepted. In the event that your employer is paying for the move, the employer may pre-arrange to be billed via invoice.
What is an order for service?
All movers are required to prepare an "order for service" before they transport your belongings on the moving truck. The order for service provides you with written confirmation of the services that you requested to be performed during your move. It lists the agreed upon dates for the pickup and delivery of your belongings, the amount of valuation you requested, any special services you ordered, and your contact information so your mover can contact you during the move.
 Non-binding estimate: The order for service will indicate the amount of the estimated non-binding charges, the method of payment for the charges and in case the actual charges exceed the non-binding estimate, the maximum amount that you are required to pay at the time of delivery. You will have 30 days following delivery to pay the balance of the charges due.
 Binding estimate: The order for service will show the charges that you will be required to pay at delivery, based on the binding estimate and the terms of payment.
What is a bill of lading?
The bill of lading is the receipt for your goods and the contract with your mover for their transportation. The driver who loads your household belongings must give you a copy of the bill of lading.
It is your responsibility to read and understand the information on the bill of lading before you sign it. The bill of lading identifies the mover and specifies when the transportation is to be performed. It also specifies the terms and conditions for payment of the total charges and the maximum amount required to be paid at the time of delivery if you are moving under a non-binding estimate. Information regarding the valuation of your shipment and the amount the mover will be liable for in the event of loss or damage is also shown.
What is an inventory?
The driver will usually inventory your household items as he or she loads it (but it's not required by law). When completed, the inventory provides a detailed, descriptive listing of your household goods and the condition of each item when received by the mover.
Be sure that everything listed on the inventory is correct. This is not always the easiest task, as you will find things written on the inventory such as "PBO", which means packed by owner. The contents of this carton can't be listed because the driver is not able to see inside the box!
If "CP" is noted on the inventory, this means "carrier packed". For these items, you'll see a column where the driver uses inventory code to make note of the condition of that particular piece. To understand this code, look at the top of the inventory sheet for the legend. SC – scratched, C – chipped, 3 – right side of piece and 8 for the top of the piece. This is a simplified way for the driver to make note of any existing damage.
Remember, this inventory is for you to keep track of what is loaded and the condition of each item. If damage occurs on a particular piece during the loading process, get the inventory tag number on that item and make a note in the far right hand column on the line that corresponds with that piece. This is the document that will be reviewed when the claims process is initiated so it is important to have the damage clearly noted.
Upon delivery use the inventory to verify the articles as they come off the truck. If you see new damage, be sure to point it out to the driver.
If you are not sure if the damage was existing or caused by the move, ask your driver to explain the condition of the piece as he noted on the inventory during the loading process. This is the quickest way to clear up what is new damage and what was there all along.
Moving FAQ: Packing
Do the contents of dresser or desk drawers need to be packed in moving boxes?
All loose items must be packed in boxes to prevent loss or damage. We recommend that you pack all items and leave the drawers empty.
Will the driver load all the boxes that I packed?
Yes, as long as the driver deems them safe for transport.
Can I pack and move my plants?
Most moving companies will not take your plants. The stress and heat of being inside
of the moving trailer usually causes them to die.
What should I do with my jewelry and other valuable items?
While high value items such as jewelry, antiques and stamp collections can be included in your move, be sure to notify your move coordinator and make sure these items are covered by valuation or insurance. Irreplaceable or extraordinarily expensive belongings should not be handled by your mover. You might take them with you, or make other high-security arrangements.
In the moving industry, items worth more than $100 per pound are considered to be articles of "extraordinary" value. To be assured that a claim involving these articles is not limited to minimal liability, complete and sign your mover's version of a high value inventory form, as well as the "Extraordinary (Unusual) Value Article Declaration" box on the Bill of Lading. Finally, make sure you have the proper valuation for these items. You may want to check with your insurance agent to see if these items are covered under your homeowners or renters policy.
How do I prepare my appliances for moving?
Appliances such as washers, dryers and refrigerators must be disconnected, and prepared for the move. Check with your appliance service provider to see what each particular appliance needs to be moved safely. Keep in mind that most movers estimate your fees by the weight of your move. You may find it more cost effective to leave your major appliances behind, and purchase new ones for your new residence.
How will Allied protect my upholstered furniture?
Allied Van Lines agents use plastic stretch-wrap to protect your furniture from scuffs and dirt.
Moving FAQ: Valuation of Coverage
Am I protected against loss or damage while my goods are in transit?
Yes, but how much protection you have and its cost to you depend upon the valuation coverage you select.
The valuation option you choose determines the basis upon which any claim will be adjusted and the maximum liability of the carrier. Valuation is not insurance coverage. This is important to understand. It refers to the liability of the moving company. Check with the provider of your homeowners insurance to find out of you are covered for loss or damage during moving.
 Released Value This is the most economical as it is no cost to you. This option provides only minimal protection and is not sufficient coverage for almost all moves. It will pay you $.60 per pound per article if lost or damaged. That means a piece of furniture weighing 75 lbs would receive a settlement of $45.00. Most people choose released value only if their home insurance policy adequately covers their belongings during a move.
 Full Extra Care Protection This is your most comprehensive valuation option. Also referred to as "full replacement value" or "full value protection", this covers items that are lost or damaged. Such items will be repaired, replaced, or a cash settlement is given. Cash settlements are made for the current market replacement value. Ask your move consultant to advise you regarding deductibles for this coverage.
Moving FAQ: The Move
How do I prepare my home and myself for move day?
Your move coordinator or driver will contact you at least 24 hours prior to your moving day to let you know what time the movers will arrive. If you haven't finished packing, and would like some help contact your move coordinator as soon as possible and they may be able to send out professional packers to complete the job for you. Of course, ask your move coordinator to give you an estimate for packing services.
Your movers will protect your home with runners for stairs, door jamb protectors, and railing
protectors as necessary.
How will I know where the truck is with my belongings once the driver leaves my home?
You can track your truck online! Just ask your move coordinator if your move is one that will be available for tracking. If so, ask for your six digit registration number. You'll need it to log in to the move tracking webpage on Allied.com.
How will I know when my moving truck will arrive at my new home?
In most cases, your driver will contact you 24 hours prior to delivery, so make sure he has your cell phone, or preferred contact information. You can also ask for your move coordinator's and driver's phone numbers so you can keep up to date. Your driver will not be able to answer your calls when he is behind the wheel, but can call you back when he stops for a break.
Moving FAQ: Claims
How do I file and receive my settlement for lost or damaged items?
We have a helpful video on this topic. It is best to know how to be prepared for filing a claim before you actually need to submit the paperwork. That's why this video is worth watching before your move.
Have More Questions?
If you have additional questions about residential moving, feel free to shoot us an email. At Piepho Moving & Storage, your Allied Van Lines agent, we're here to help.