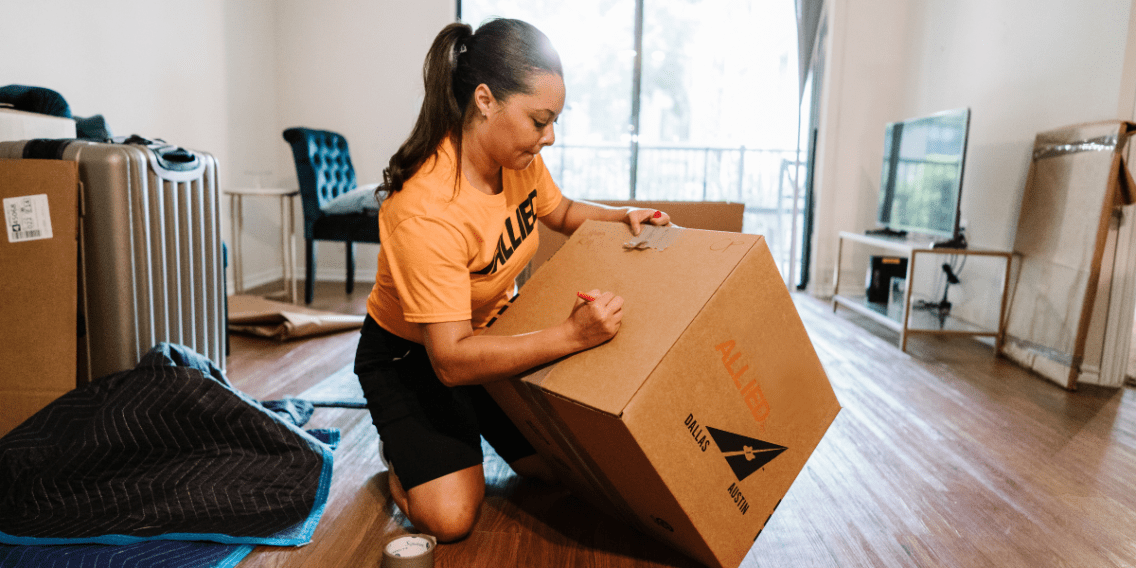 Moving & Packing Checklist
Regardless of whether you're relocating an entire house or a small apartment, moving can take a lot of effort. Determining the proper packing materials for moving to purchase and knowing how to correctly pack certain items is hard enough, but often, you also need to efficiently coordinate logistics ahead of time.
Whether you're moving on your own, or are packing boxes that will be transported by a mover, the concept can be daunting. Using a moving and packing checklist can make the process a lot easier. The professionals at Piepho Moving & Storage have curated several moving and packing tips and tricks to simplify relocations for our valued customers.
Moving & Packing Tips and Tricks
One the best things you can do during a move is use time to your advantage. It's recommended to spread out the process, if possible.
You can break it down by the following timeline:

8 Weeks Moving Checklist
This is when you should ideally set up your packing strategy and plan how you will move your items, as well as strategize for related tasks:
Print or digitally store your moving and packing checklist to begin the process.
Contact Piepho Moving & Storage to receive a free quote and speak with a moving specialist who can help you coordinate a relocation plan within your budget.
Secure your moving date(s).
Organize your packing strategy to focus on one room at a time. This is one of the most useful packing tips, as it lessens the overall stress of worrying about your move. It will also help when it comes time to unpack, if you keep similar room items together.
Be sure to label each box with your last name, room, and contents. That will make the unpacking process go much more smoothly.
Declutter by purging items you don't want to keep, and selling or donating what you can.
Determine if you'll need a secure storage solution.

6 Weeks Moving Checklist
With a little over a month until your move, this is the time to set your packing checklist in motion:
Gather necessary packing supplies for moving (boxes, labels, tape, etc.)
Pack a couple of boxes per day (by room) and mark their contents.
Focus on general items first and leave possessions that may require special packing until later. Here are some of the best packing tips for general items:

Drapes and Curtains: Hang drapes over crossbars in wardrobe cartons, or pack them folded, in moving boxes, with the rods stored separately.
Lamps and Lampshades: Remove, wrap and pack bulbs, harps and shades, but first, roll up the cord. Pack lamps with bedding or wrap separately and place upright in a carton. Wrap harp and finial with packing paper. Wrap shades in packing paper and place upright in packing-paper lined cartons. Make sure the lamp shade is in a box by itself.
Mirrors, Paintings, and Pictures: Wrap small mirrors, pictures, paintings, and frames and place on edge in cartons. Place large pictures and paintings on edge in heavy cardboard containers.
Heavy Items: Pack these toward the bottom of the box and lighter items toward the top. Try to keep a per-box weight of 50 pounds or less. For cartons: the heavier the item, the smaller the carton.

Clearly label fragile items and use extra care while packing. Example: view our blog on how to move wine glasses.
Organize your moving boxes by size so it's easier to select boxes for loading.

4 Weeks Moving Checklist
Within the month of your move, it's important to begin final steps to finalize your relocation.
Start to get rid of perishables.
Pack specialized items and follow these moving and packing tips and tricks:

Clocks: Remove or secure the pendulum in large clocks. Grandfather clocks should be prepared by you and handled by moving experts.
Electronics: Computers, stereo equipment, and personal electronics. Pack in original packing materials and boxes when available. Otherwise, use high quality moving boxes and place protective padding on the bottom and around the item. Attachable cables should be wrapped separately. Take pictures of your electronic plugins to make set up easier at your new home.
Expensive family heirlooms and other high-value items: Leave these to the professionals and consult your moving coordinator for more information.

2 Weeks Moving Checklist
Moving day is almost here. You'll need to take care of final tasks like scheduling service disconnects, transferring home ownership or returning items connected to your lease. You'll want to clean your current residence and your new home, as well as lay down rugs or protective covers to keep your new floors from getting scuffed or scratched.
Moving Day
On moving day, remember to remain calm and enjoy the time with your family. You can always return back to your moving and packing checklist if you're afraid you missed a step.
Packing Materials for Moving
You never know what you might need, so it's a good idea to obtain a wide variety of packing materials for moving.
Cardboard moving boxes.
Specialty cartons for mattresses, hanging items, mirrors and artwork, dishes and glasses.
Plastic bags and labels.
Foam peanuts, pellets or popcorn.
Newspaper, bubble wrap or packing paper for fragile items.
Packing tape, scissors and box-cutters.
Markers and labels for identifying contents of moving boxes.

Kitchen Packing
With fragile items like plates, saucers, glasses and more, packing your kitchen can be more time and care intensive.
How to Pack Dishes and Cups
Select a dish pack specialty box and line the bottom of the carton with sheets of crumpled packing paper.
Center one plate on the paper, grasp a corner on several sheets and pull the paper over the plate. .
Stack up to three more plates, making sure you fold a couple sheets of paper between each plate.
Wrap the entire bundle again, seal it with packing tape and place the bundle in your dish pack box with the plates standing on edge.
How to Pack Glassware
Stuff glasses and stemware with crumpled tissue or packing paper before wrapping.
Lay a glass on the corner of packing paper and roll it.
Stack up to three more plates, making sure you fold a couple sheets of paper between each plate.
Place glasses, stemware (and other delicate glassware) in an upright position toward the top of your box, and heavier pitchers and items at the bottom.
Fill gaps with more paper.
Best Packing Tips from the Experts
At Piepho Moving & Storage, we believe in giving you the tools for successful moves to make it easier on you. From planning out your move, to implementing that plan and knowing what supplies you'll need, we have you covered. If you need expert assistance in Minnesota, or Wisconsin, our team is here to help. For more information, give us a call at 866-519-3490 or email us and let us take care of your move, hassle-free.